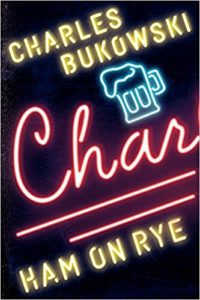 Charles Bukowski is a name that often comes up in conversations among and about writers, so I decided to sample him. Ham on Rye is his quasi-autobiographical tale of a young man in Los Angeles, from abusive childhood to alienated adult in the years before WWII. The 58 chapters are small, 3-7 page vignettes, scenes from his life, most involving getting whipped by his father, fistfights, drinking, trying to get laid, or some combination of those. The only thing that unites the scenes is the first-person voice of the narrator.
The book has no plot, no significant character development, and nothing of any import happens, so what do we have?
Mainly voice. The character of Chinaski, the narrator, is a self-loathing, defeated, taciturn outsider and, from a very young age, a violent alcoholic. He manages to get a partial education and a few odd jobs but never does amount to much, nor does he want to. Despite all the fistfighting and drinking, he's an uninteresting, unlikable, and irredeemable character, but his hard voice is full of attitude and that's the fun part of the novel.
Chinaski is the tough-guy Holden Caulfield, and maybe that explains the book's title and some of Bukowski's motivation for writing it. It would be going too far to say that the whole novel is a parody of Catcher in the Rye though. Ham on Rye seems genuine and heartfelt, not merely a sendup.
Another interesting aspect is the setting, LA in the '20's and '30's. It's presented as any gritty depression-era city. It could have been Chicago or Memphis. No glimpse is offered of the movie industry, the freeway networks, smog, technology, Disney, or surfers, and omission of those stereotypes was refreshing, although on the downside, it didn't feel like Los Angeles, either.
Some of the scenes are poignant, a few funny, all well-written, but I got tired of fistfights and alcoholic binges and hangovers that weren't interesting either the first or the fifteenth time. The writing is terse, "muscular" as we say, meaning descriptive with plenty of action verbs, but it's not lyrical or memorable. Lots of cursing.
Unlike Holden Caulfield, Chinaski didn't ring true for me. Granted, that could be because of my sheltered middle-class life, but I don't think any young man who isn't brain-damaged or mentally abnormal would have zero interests, no aspiration or hope at all over a whole lifetime, and such unrelenting self-loathing. Even the most damaged, victimized youths are interested in something and good at at least one thing. That doesn't mean my experience is more valid than Bukowski's, but for whatever reason, I didn't connect with his character's personality. And yet unlike Camus' Mersault, Chinaski doesn't convey that existential ennui that characterizes so much WWII-era writing. Chinaski is just angry, confused, and dull-witted. A portrait of a relatively uninteresting person is uninteresting.
Bukowski, Charles (1982). Ham on Rye. New York: Harper Collins (283 pp).