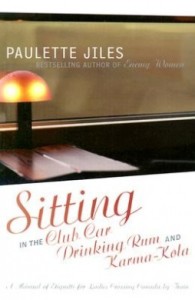 This little novella is a wonderful train story with a lot of claustrophobic atmosphere and terrific language. I will shelve it with my small collection of "prose poetry," along with books like Duras's The Lover, Winterson's Art and Lies, and Ondaatje's Coming Through Slaughter.
The narrator, a recently unemployed woman, flees Seattle after having maxed out a stack of credit cards to limits she knows she can never repay. She travels to Vancouver, B.C. and boards a train headed to Montreal. On board, she imagines she is a glamorous femme fatale in a 1940's detective movie, or maybe in an Agatha Christie novel. A mysterious man boards the train and takes an uncommon interest in her. She is attracted. But is it a simple train romance, or is he a skip-tracer hunting her down?
What attracted me to the book was its use of language. The story is clever and fun but the language is stunning. Here is the sentence that hooked me, the first one of the book:
"She is entraining for the East somewhere, as Myrna Loy and Jean Arthur and Carole Lombard used to entrain on the Twentieth Century Limited, walking down the concrete apron beside the large cars – minor characters existing stage left and arriving stage right – with matching luggage and a hat with feathers and a porter reaching for her bags. "
I cannot resist one more quote, just a few pages further on, a description of the Vancouver train station:
"The Vancouver train station is a construction of 1890 dignities and recent decorative blunders. In the park outside there are great architectonic oak trees, and in one corner a catalpa tree hanging all over with green bean pods like syllables, eternally waving its fat round leaves at eternally arriving and departing trains."
The poetic language does falter a bit as the pages progress, but it's still a pleasure to read. The style of writing is consistently unexpected, erudite, precise, with wonderful wry humor and subtle historical allusion. I also liked the strong metafictional element, where the author inserts references to the fact that this is all a description in a novel (like the word, "syllables" in the previous quote.)
This would be a book to devour in one sitting, on a train perhaps, or more likely an airplane. Also, it's a handsome book, a so-called "trade" paperback with a heavy, folded cardstock cover and a deckled edge, a literary object to be treasured in its own right.
Jiles, Paulette (1986). Sitting in the Club Car Drinking Rum and Karma-Kola: A Manual of Etiquette for Ladies Crossing Canada by Train. Toronto: Raincoast/Polestar. (108 pp.)