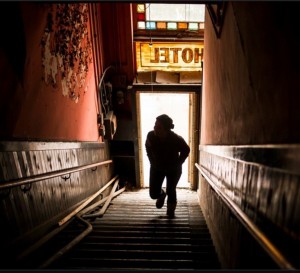 I signed up for a writer's conference in Portland, OR, a town I've always been fond of. When I lived in Seattle, I often  used to take the Amtrak down to Portland for the PDX Jazz Festival and enjoyed the music and the opportunity to shake hands and talk to a lot of interesting people, including Esperanza Spalding, Joe Lovano, Gary Burton, and many others. It is, or was, remarkable for being a small, informal festival with a surprising lineup of heavy hitters. I  have fond memories of late nights in Jimmy Mak's.
The Portland Film Festival was also a pleasure, also low-key and casual yet first-class. Unlike the Seattle SIFF, which is so huge you can't even scratch the surface, the PIFF was human in scale. That's where I first encountered the work of Bela Tarr, one of my all-time favorite directors (I recommend "Damnation," though you better read up on it first – it's not for everyone).
Alas, Portland has been discovered and has become one of the most expensive cities in the country (like Seattle), and I imagine those festivals have by now become slick and shiny. Portland always did suffer from Seattle-envy.
Nevertheless, I signed up for this writing workshop, a "Novel Intensive," partly out of nostalgia for the city, and partly because I always gain new insight at such gatherings. It's a very small, low-key affair, just the way I like (www.novelintensives.com/) and the main presenter, Larry Brooks, is a name brand, someone I can learn from.
The workshop will be held in a hotel I cannot afford (The Benson), in a town I really cannot afford either, but I'm going to try to beat the system by staying in a newly renovated, hundred-year-old "historic" hotel in so-called "Chinatown" (north of Burnside). My wife is skeptical, but we did manage to score a room (only one of four) with a private bathroom, so she's willing to go along. No TV, no phones, no restaurant, austere rooms that look like stone-walled cells, but that could be construed as atmospheric. It's on the MAX trolley line that goes past Powell's Books into downtown. What more could you ask? (www.thesocietyhotel.com/).
An added attraction is that in my current project, my main character, a Korean woman, is on the lam, pursued by the Los Angeles prosecutor's office. Why not have her hide out in Portland? "All Asians look the same to white people," she tells her friend in justifying the choice. So I can explore Portland's Chinatown neighborhood for scene settings, take pictures, and theoretically write off my expenses as "research."  (That would be assuming I had income to "write off" against, which I don't, but still, it sounds impressive.)
So that's coming up in three months. All I have to do now is complete the novel that will be intensively analyzed at the workshop. Piece of dim sum.