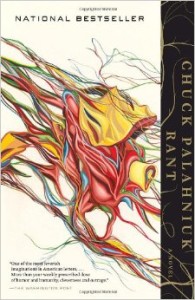 I recently reviewed on this site, Palahniuk's Rant: An Oral History of Buster Casey, which I liked enough to consider nominating it for group study, but I hesitated because it's so vulgar: both puerile and prurient. A long-running joke, repeated a dozen times, is about how a sensitive person, after performing cunnilingus, can tell what the woman has eaten over the last three days, right down to which brand of ketchup she used on her French fries. In one variant of the joke, the linguist, so to speak, warned that the vagina indicated very high cholesterol. The joke was funny the first time because of its outrageous originality. I'm not above prurient humor. But it wasn't funny enough to retell so many times. Rather, it became a writerly tic, vulgarity for the sake of vulgarity. Likewise, the recurring rape theme in the novel seemed gratuitous.
So why did I hesitate to nominate the book to my group? The book club comprises a group of serious writers, and many of us have been together five years or more. Our goal is to improve our writing by reading interesting books, usually ones that count as "literary." Whether we like a book or not is irrelevant. The aim is to extract techniques and themes we can learn from and steal. So we've read some bad books, but examples of badness can be goodness.
Still, how can I recommend a book for November featuring mayhem, disease, rape and oral sex, when in September we discuss Woolf's Orlando, and in October, Gould's Book of Fish, by Richard Flanagan? I don't think anybody in my group is shy about sex or violence in literature, but I'm wondering if Rant is more interested in pandering to an unsophisticated reader than in exploring the art of the novel. But that sounds snooty. The better question is, can writers learn from Rant? It offers an interesting narration strategy, but I don't know what else. We can do our own vagina jokes. We might be better off with Vonnegut or Pynchon.