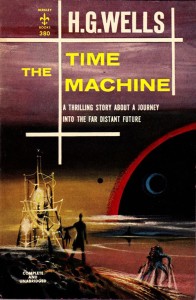 I'm happy to announce that my characters are awake again and chattering like children in a playground. I knocked out a short chapter and now I sit at 41K words, just past dead center.
One reason I was able to do that is because the two droids are off-stage right now, pursuing their missions, so I could focus on the humans back in the lab. They're devising a new AI strategy that does not involve a third android. (I can say no more). But I've got to get the droids back on stage right quick or it will seem like another novel has suddenly sprouted. I'm a little foggy on exactly where I'm going, but that's not unusual in a first draft.
Meanwhile, I'm trying to up my sci-fi bona fides. My first android story, which, incredibly, snagged an agent, was an accident. I'm really not a sci-fi writer. Nor do I read the stuff. I wrote that novel as an exploration into human psychology, and used an android as a device to create a non-human contrast. Writing sci-fi was the farthest thing from my mind. But when I was done, I had a main character who happened to be an android, and I had accidentally written a sci-fi novel.
Now I feel I should be more up-to-date with the world of sci-fi so as not to be a total fraud. I developed a list of recommended "hard" sci-fi novels and I found a few of them at a used bookstore today. I wish you could buy a package of reading hours to go with each book. I'll copy my study list below.
I had two interesting realizations in the bookstore. One is that I actually have read some sci-fi, classic stuff, like Clarke, Heinlein, Bradbury, Asimov, and so on. I had forgotten that I avidly read sci-fi for a few years in high school. So I'm not a virgin after all.
The other notable experience was a sense of intimidation. All those authors, so many books, so many ideas. I felt like every possible sci-fi topic that could be written on, has been – repeatedly. The only angle of uniqueness I might have is that I am exploring inner space rather than outer space. The final frontier?
After what I saw today, I definitely will not be addressing any cutting edge topics in physics, astronomy, chemistry, materials, biology, evolution, gravity, space or time. Everything's been done, done, done. As a psychologist, I'll stick to what I know. The inner world is anyway vaster and far less explored than the outer one. And I don't have a faster-than-light problem.
             My study list for hard sci-fi:
Rendezvous With Rama, Arthur C. Clarke
Foundation, Isaac Asimov.
I, Robot, Isaac Asimov
Tau Zero, Poul Anderson
The Thought Readers, Dima Zales.
Red Mars, Kim Stanley Robinson
The Color of Distance, Amy Thompson
Ringworld, Larry Niven
The Mote in God's Eye, Larry Niven & Jerry Pournelle
Revelation Space. Alastair Reynolds
Rainbows End, Vernor Vinge
A Fire Upon the Deep, Vernor Vinge
The Diamond Age, Neal Stephenson
Cryptonomicon, Neal Stephenson
Downbelow Station, C J Cherryh
Cyteen, C.J. Cherryh
Use of Weapons, Ian M. Banks
Lilith's Brood, Octavia Butler
Accelerando, Charles Stross
Blindsight, Peter Watts
Starfish, Peter Watts
Beggars in Spain, Nancy Kress
Dragon's Egg, Robert L. Forward
Diaspora, Greg Egan
Manifold: Time, Stephen Baxter
The Forever War, Joe Haldeman
Everyone in Silico, Jim Munroe
Synners, Pat Cadigan
Spin, Charles Wilson
The Quantum Thief, Hannu Rejaniemi
World War Z, Max Brooks
The Mars Trilogy, Kim Stanley Robinson
Incandescence, Greg Egan
Eon, Greg Bear
Moving Mars, Greg Bear
Einstein's Bridge, John Cramer
The Moon is a Harsh Mistress, Robert Heinlein
Altered Carbon, Richard K. Morgan
Ancillary Justice, Ann Leckie
Fiasco, Stanislaw Lem
Mission of Gravity, Hal Clement
Startide Rising, David Brin
The Martian, Andy Weir