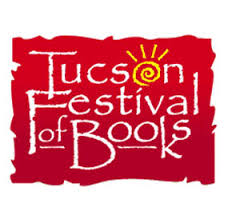 I'll be signing and selling two of my books this weekend at the Tucson Festival of Books. I volunteered anyway to staff the booth of the Arizona Mystery Writers (www.arizonamysterywriters.com) for a couple of hours, and one benefit of membership is that you can flog your wares while there. So flog I will.
I'll be showing, maybe selling, maybe signing, Hunter and Hunted, a novella (51,000 words) about art fraud and archery, featuring a female protagonist.  It's a self-pulbished book that I printed up at CreateSpace. That one goes for $6.99.
The other is my first full-length novel, It Wasn't Me (a whopping 369 pages), about a woman with a split personality who seeks revenge on an evil uncle. Oh yeah, and she also hates genetically engineered food, and that sub-theme really does tie in to the main story, believe it or not. Also self-published at CreateSpace. Snap it up for a paltry  $9.99.
Click Here to link to bibliographic and ordering information and to see the pretty covers I designed myself.
I'm only taking 7 copies of each title with me to the fair, my entire inventory, but if I sell them, I'll be surprised and happy. After paying for my City of Tucson business license and the state and city sales taxes (included in the prices!), I'll be lucky to break even. What the customers will never know is that I would gladly pay THEM a couple of bucks to take a book and read it and enjoy it!
Ah, the glamorous life of a writer…