I like to sample pop music in very brief doses, just to have a sense of what the young people are thinking, and because, well, the Beatles are dead, man.
I catch bands appearing on late night shows like Colbert, Jimmy Fallon, SNL, and others. Naturally, these acts are DVR'd because I can't stay up past 9:30 pm.  From time to time, I also watch Austin City Limits and similar pop music shows. In all of these excursions into popular music, I find little to like, and much that is laughably bad – in my humble opinion!
Granted, I am a fuddy-duddy who still loves mid-century jazz and Beethoven's string quartets, so I do not expect to like current popular music, and that expectation is consistently met. With exceptions.
I was very surprised to watch  a recent edition of Austin City Limits that blew my socks off (old people are susceptible to that problem). Two acts were presented and both were so incredibly good, I hereby report them, knowing full well that I am probably the last person in the country to "discover" these talents.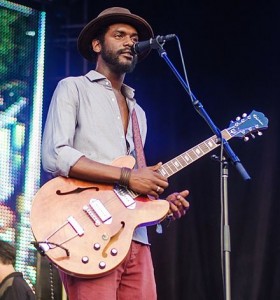 Gary Clark, Jr. is a Texas bluesman and rocker who Rolling Stone declared "Best Young Gun" in April of 2011. I'm not sure what that means, but it sounds like praise, and if so, I concur. Clark has played alongside plenty of musical luminaries, including ZZ Top, B.B. King, Buddy Guy, Jeff Beck, and the Rolling Stones. According to Wikipedia, he has even performed at the White House, so there you go. The man has arrived. His first major album was released in 2012, called Blak and Blu which immediately hit #1 in blues albums.  You can hear free sample tracks by Clark at http://www.amazon.com/Gary-Clark-Jr/dp/B003TQJNDW . I don't remember exactly what tune I heard on Austin City Limits, but it made my feet cold.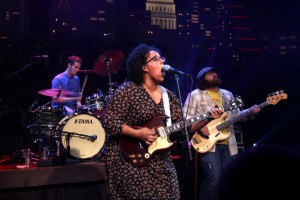 I had barely recovered my breath and put my socks back on, when along comes another amazing group that everyone in the world already knew about except me, Alabama Shakes.  It's a rock band formed by lead singer and guitarist Brittany Howard and bassist Zac Cockrell when they were just high school kids. The group also includes guitarist Heath Fogg, keyboardist Ben Tanner, and drummer Steve Johnson. They became active as a band in 2009, but by 2013 had been nominated for three Grammys.
According to Wikipedia, the band's first full album, "Boys & Girls" came out in 2012 and went gold by 2013. Their first TV appearance was in 2012 on "Conan", when they performed their first single, "Hold On," which I think is what I heard on Austin City Limits, but I couldn't swear to that. Someday we'll be able to pop up a little internet browser within the main TV picture, but for now it's an information-poor medium. Alabama Shakes has also appeared on SNL. The energy is phenomenal; the sound is riveting.
Sample their sound at  https://myspace.com/alabamashakes/music/songs , but caution: after I heard them, my feet were inexplicably cold.