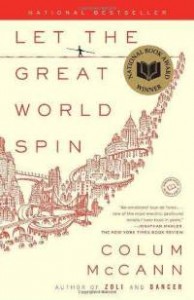 High-Wire Act
McCann, Colum. (2009). Let the Great World Spin. New York: Random House.
This set of stories describes the lives of ordinary people in New York City in 1974. As the stories unfold, the lives of the dozen or so characters intersect in chance ways.
John and Ciaran Corrigan are young brothers recently arrived from Dublin. John is an impoverished Jesuit priest who doesn't preach but acts kindly and non-judgmentally toward hookers and addicts in the Bronx. He lets the hookers use his bathroom to clean up during the day. His secular brother struggles to understand that lifestyle and what effect it could possibly have, since no hooker or drug dealer ever changes their behavior or attitude as a result of John's actions.
The main hookers are Tillie and her teenage daughter, Jazzlyn, both heroin addicts. They ply their trade under the freeway, in view of the Corrigan apartment. They're nice people, seeming to accept their life of squalor and hopelessness. Jazzlyn has twins at an early age.
Brian and Lara are drug-crazed artists who hit Corrigan's van on the freeway, causing the death of John and Jazzlyn. They leave the scene of the accident, but Lara has an attack of conscience and goes back to find the Corrigan apartment, where she meets Ciaran, and improbably, forms a romantic relationship with him.
Claire and her husband Solomon live on Park Avenue. They lost a son in the Vietnam war and Claire has joined a group of grieving women who lost children. Most of the women are middle class, some are black and poor. When it is Claire's turn to host the meeting in her fancy apartment, there are class and racial tensions. One of the women, Gloria, happens to live in the same building as the Corrigan apartment.
Another thin thread to tie the stories together is the famous 1974 stunt in which an acrobat walked across a wire  strung between the World Trade Center towers. All the characters are aware of that feat and can talk about it with each other.
This approach to novel-writing is open to criticism. Adding a few not-very-believable crosslinks among a set of short stories does not automatically make a novel, which, traditionally, should tell a story that illuminates some artistic truth. So the overall structure of McCann's novel is disappointing.
However, the modern novel can be anything it wants to be, and McCann substantially overcomes the structural limitations of his form to ask how a person should live. In this book, every character has renounced personal responsibility for his or her fate.
We get the message there is nothing anybody can do to manage their destiny, so perhaps human kindness is the only bottom line, the kindness shown by John Corrigan on the mean streets, but also the tiny moments of love and kindness, no matter how confused or hopeless life seems otherwise. The book was written after the 9-11 attacks on the Twin Towers and among survivors of that event there was perhaps a similar feeling that compassion is the best response to outrageous fortune.
McCann's writing miraculously captures the harsh details of life at ground level and the same time, invokes high-minded gestures like a wire-walker a quarter mile above the ground. His use of time-compression and dilation stand out especially. The stories never sag. His observational phenomenology is often breathtaking. It's satisfying to read such good writing, regardless of what the overall story is trying to say.
On the down side, McCann has the distracting quirk of starting every chapter with indefinite pronouns so it takes five pages to discover who the characters are and which one has the point of view. I can't think of any novelistic reason to do that, and it is very annoying. Another difficulty is that several scenes are seriously over-written, cloyingly sentimental or grotesquely and not-believably graphic. Dialog tends to be perfunctory and non-revelatory. And there is the fiction that strangers in a city of ten million have only one or two degrees of separation as if they lived in a small town. 
Despite these flaws, the quality of the writing is such a high-wire act of its own that the novel is a pleasure from cover to cover.