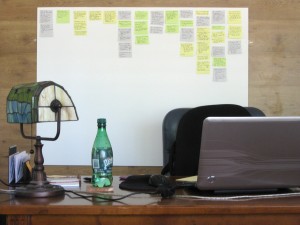 The workshop I went to recently was called "advanced" because you needed product. You couldn't walk in with just an idea or an outline. I went with 75,000 words, the ninth revision of a suspense novel.
What I learned at this workshop was was that my novel had too many substories and consequently, no clear throughline.  I was advised by some participants to drop the corporate malfeasance angle and go with the murder mystery or with the sexual abuse story. Other class members suggested every possible combination of those themes. But I got the message: it's too complicated. That's what I paid the big bucks to hear.
That was over a month ago. Since then I haven't wanted to look at the manuscript. I thought about putting it in a drawer forever and saying, "Oh, well."  The workshop had turned something into nothing.  But I finally decided there was nothing to lose by trying a revision ten.
My idea is to drop the murder-mystery component, but keep the sexual abuse theme and the corporate crime theme.  The corporate crime is the external story driver for my character. While she addresses that crime, she discovers her traumatic past. I didn't want her to directly investigate her family history. I don't like family stories.
In the rewrite I'm going to make her an older character talking to a counselor about her past, alternating with real-time investigation of the corporate crime. Right now I don't know where to begin.  I have a concept for the rewrite, but I can't feel my way in. It needs more time to bubble.