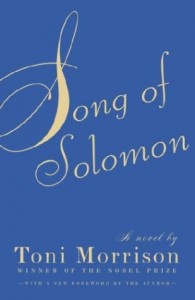 Great Writing, Weak Story
Morrison, Toni (1977). Song of Solomon. New York: Knopf.
This 1977 novel, Toni Morrison's third, vaulted her to national attention. It follows the life of a black male protagonist, Milkman Dead, from late childhood to adulthood. Along the way, she creates the world of ordinary black communities, in Michigan, Pennsylvania, and Virginia, from the 1950's to the 1970's.
Milkman is an aimless boy and young man, with no particular drive or values, but his father is a relatively prosperous landlord so he is not driven to work. He eventually works for his father as a rent collector but is unenthusiastic about it. In the last third of the novel, he comes to believe in the existence of a hidden cache of gold and goes in pursuit of it, only to discover the "real gold," his place in the larger community of his people.  Aaaaaw!
As an ardent anti-sentimentalist, I didn't find the character's motivations or emotions convincing or compelling. The novel is extremely well written however, so the pages keep turning, even if "nothing happens." Morrison's sentences are marvels of precision. Her imagination is amazing. Her sense of humor ranges from sarcasm to tongue-in-cheek. Her use of symbolism, especially Biblical, was a bit heavy-handed for my taste. So the book is an enjoyable read, but only as an example of good writing, not as an example of good storytelling, in my opinion.
The problem with the storytelling, for me, is that I am not much interested in genealogy, dark family secrets, and intra-family feuds. Granted, Morrison's characters are inventive, unusual, interesting, and not stereotypes. But they don't do anything but worry about their family secrets and family history. When they do act, their behavior can be so bizarre, and so poorly motivated, it often seems arbitrary.
Toni Morrison is a national icon, of course, having won the Pulitzer Prize, the Nobel Prize, the National Book Award, and about every other literary award there is. So I realize I am going straight to hell for criticizing this book, one of her most famous and popular. But I don't criticize her. I love her writing craft. I just don't like her style of storytelling.