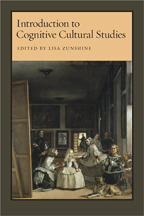 Adams, W. A. (2011). Cognitive Psychology Meets Literary Criticism [Review of the book, Introduction to Cognitive Cultural Studies]. PsycCRITIQUES – Contemporary Psychology: APA Review of Books, January 5, 2011, Vol. 56, Release 1, Article 8.
Cultural studies is an established academic discipline practiced mainly in departments of English. It  analyzes some aspect of a culture through a particular lens of assumptions, usually to focus on the political nature of cultural processes, revealing implicit power relationships. According to Editor Zunshine, the new strategy presented by this book is intended to encompass, not replace, other approaches to cultural criticism, such as gender studies, feminism, Marxism, postcolonialism, poststructuralism, performance theory, psychoanalysis, ethnic studies, rhetoric, ecocriticism, and body theory, to name just a few extant approaches. "Encompass, not replace," is a fascinating construction, reminiscent of Ronald Reagan's approach to Soviet disarmament: "Trust, but verify."
The thrust of this book is that a grounding in cognitive science is the best, most inclusive point of view for practicing cultural criticism.  Since all cultural processes are, after all, products of the human mind, then, the claim is, there is no better strategy than to adopt principles of cognitive science for doing cultural analysis. For example, if one is aware of recent scientific findings on intersubjectivity, one might better identify subtle relationships in Jane Austen's work. 
One driver of this project is to find an objective, non-arbitrary basis from which to conduct cultural criticism. But according to these authors' own principles, science is just another thread of cultural conversation, like art or politics. Why would science have privileged access to truth? It wouldn't. The premise of the book therefore stands on a flawed foundation.