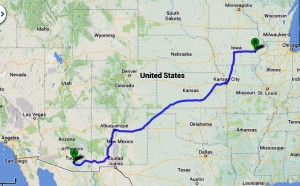 Like millions of other Americans, I'll be on the highways in July. I'm taking a novel manuscript to a writing workshop in Iowa City. A sensible person would fly. Even though driving is far more dangerous than flying, not to speak of slower and mind-numbing, I'll drive from Tucson, right through the Heartland, almost to Chicago, over 1500 miles away. I'll cross into Illinois to do location research in Rock Island, where an important scene in the novel is set. Most writers would do the location research first, but not me. I write for story and character. Setting can come later.
How can I make lemonade out of this journey? I'll be crossing through a lot of nothing. From Tucson to Las Cruces is severely nothing. I need to check for forest fires before I commit to that route. Most of New Mexico is nothing, although I like the art museum in Albuquerque. The Texas panhandle is the definition of nothing. I'll stay one night in Amarillo. Then I'll cross Kansas diagonally northeast to Kansas City, MO. Endless cornfields count as nothing. I'll go north to Story City, IA, where my main character lives in an old farmhouse. I hope it looks like what I've imagined. Then East to Iowa City and the workshop.
It will be a lot of nothing punctuated by a few cities. Albuquerque, Wichita, Kansas City, Des Moines. Maybe I should do a Buddhist meditation on Nothingness? I'll see a lot of small-town, middle America, a lot of Best Westerns and Quality Inns, a lot of 18-wheel highway trucks. Time will move slowly. I should see some good thunderstorms, perhaps  the odd tornado, although it's a little late in the year for that.
I don't have the inclination to do a travelogue. I'm quite sure everything's already been done. There's a ton of books on the old Route 66, and another ton on ghost towns, and another ton on mid-century architecture. Does anybody read travelogues? Nabokov did the ultimate small-town, greasy diner, dingy-motel blog in Lolita. Maybe I should do a fictional account, POV bounty hunter or  paranoid escapee.
I won't be spending much time in each place, not enough to interview people, take pictures and study the history. I'm going to make the trip east in 7 days, and I do plan to take pictures, but I'll be stopping mainly for food, gas, and lodging, not to roam and wander, not to visit antique shops, bars, psychics, or city councils. The return trip west is a slightly different route but will be a similar experience.
Nevertheless, it's an opportunity to write something. But what? When I travel through small-town America, I enjoy the sense of time travel. People live in places unchanged from 25 to 50 years ago. The architecture especially, and the insides of diners. So time travel is an angle.
There is an attractive corniness in the cheap motels. The faux enthusiasm about the "manager's special," and the wacky decor, the idiot signage and the way all indicators of locale are scrubbed away to a bland medium located in neither past nor present. There's something surreal about those islands of life outside of history, culture, and geography. Surreal is an angle.
Another aspect of the surreal is local festivals. I love those, whether it's a "tortilla festival," a vintage car show, or a local parade celebrating "donkey days," or some such. I don't understand those events, but there is something mysterious about them and the people that go to them. Every town has them and chances are I'll bump into some. It's an angle, even though I don't know what to call it.
I won't have time to meet "interesting characters" along the way, although I'll meet plenty of people at the conference, and that constitutes its own story. Writing conferences are a strange breed of event, as bizarre, I'm sure, as any trade show is to an outsider. So there's the weirdness of the writing festival itself. That's an angle.
What about me? I'm the one making the trip (with my wife and co-driver). I'm ostensibly an aspiring writer on a quest. Is it a Joseph Campbellian thing? That feels strained. It feels, in prospect, like a what-the-hell-am-I-doing road trip, not like an archetypal journey. Nobody wants to read about me and "my summer vacation," It's just a damn road trip. I'm not on a holy quest or seeking a life-changing grail. It's not the last thing on my bucket list; not a sentimental family reconciliation; not a desperate grasp at meaning. I'm driving to a meeting, that's all.
Maybe the only thing I can do is try to stay open to my experience and see if anything happens.