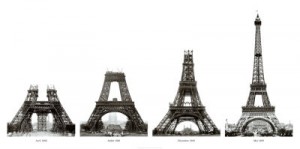 There's always a big project. There's never a time when I'm not writing or editing. It's often hard to tell when a project is over, and even when it has started.
Right now I'm temporarily between projects, which is why I'm working on this web site. I just finished my 5th revision of a detective novel, working title, "Quinn Cassidy, Detective."  The first draft of that was completed in 2012, based on a short story written in 2011. Is it done? No, I just got maxed out poring over it, line by line, word by word. It needs a rest.
A few months ago, I finished the 9th revision of another novel, "Being Ruby."  I'm pretty sure that will stick as its title. It's essentially complete, but it has voice problems. The main character is an adolescent female who starts the story at 18 years old and finishes at 21, but whenever she talks, she sounds like me. I'm taking her to the Iowa Summer Writing Festival, where I hope to get some pointers on what to do with the voice.
My Next Big Thing?  I've got an outline for a novel, working title "Chocotle." I've got a half dozen characters sketched and the broad outline of a story. The outline is from January, 2013, but I'm reluctant to dig into it just a week before heading off to Iowa with Ruby. Each project is all-consuming when you're in it.
I also have an idea for a novel that might be called "Forgetfulness."  I need to start sketching that before I forget what the idea is!